How to earn passive Bitcoin from casinos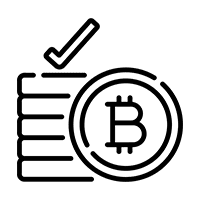 How to earn passive Bitcoin income from casinos
Want to earn passive cryptocurrency daily, now you can do it trough crypto casinos. Lots of different Bitcoin casinos offer dividends/staking in this how-to guide we will look at exactly how this works and how you can start earning free cryptocurrency on a daily basis.
Bitcoin casino dividends and how to earn it
Casinos with dividends/staking works like this, every bet you make on the crypto casino farms/mines a in-house currency that is automatically staked on the casino. To earn this in-house currency you simply need to play different casino games such as slots, table-games or crypto games like Dice, Plinko or Crash.
The rate at which you earn in-house tokens is based on your total bet amount meaning you earn tokens faster when playing with larger bet sizes, depending on what crypto casino you choose the tokens might be easier or harder to farm, since just like regular mining the in-house tokens becomes harder to earn the more that is mined.
What does the staking pool consist off?
The staking pool consists of player losses, meaning the Bitcoin casino gives back a percentage of players losses as dividends to in-house token holders.
How is my crypto dividends calculated?
Your share of the daily dividends is solely based on how many in-house tokens you are holding and how much is currently in the staking pot. This is then calculated and a certain percentage of the staking-pot is distributed to you every day, this percentage is usually around 2%
The pot might grow/shrink depending on the casinos income and how many in-house token holders are earning dividends if the casino is making to small of a profit the pool shrinks and if they are doing good it keeps growing. In short this means that the more players the bigger the dividends!
What is the best strategy to earn in-house tokens?
There are multiple strategies to earn in-house tokens on Bitcoin casinos with staking. IdleBTC recommends sticking to in-house games such as dice since its one of the best ways to quickly wager a lot of crypto quickly yet quite safe since you can easily put a loss limit and max bet on the game. We have found that playing dice on low bets between 0.00000001 to 0.00001000 Satoshi is optimal for farming in-house playing with these small bets you always have a good chance to recover when you eventually hit a long loosing streak.
Like with all gambling it's important to never play with more than you can afford to loose because in the end the house always wins, but if you play smart and farm enough tokens these losses will be negated and as a cherry on top you get daily crypto dividends indefinitely.
Best casinos offering Bitcoin dividends 2023
All crypto casinos