How to play crypto Plinko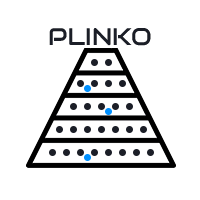 What is crypto Plinko and how to play it
Plinko alongside with Crash and Dice is one of the more popular games that is perfectly suited to play with cryptocurrency, almost every crypto focused casino has their own version of this popular casino game.
What is Bitcoin Plinko?
Plinko is a simplified version of the popular Japanese game pachinko
A round starts every time your drop a ball or token, the token then falls down a pyramid shaped maze until it lands in one of several slots, depending on where it lands a price is rewarded to you. In most cases you hope for the token to land in the left or right corner since that is where the biggest win multipliers are located.
The game was popularized to a western audience in the 80s being featured on the popular show The Price is Right, where it was one of the possible prize rounds. That is why many people are quite nostalgic when they see this new iteration of the game introduced on crypto casinos.
How to play Plinko with cryptocurrency 4 steps
Step 1
To play the game you first need cryptocurrency Bitcoin and Ether are the most commonly used currencies for gambling online. If you do not own and cryptocurrency you can simply earn some from doing simple micro task, or the easier option just buy it on a cryptocurrency exchange. We recommend getting a cold wallet (offline wallet) when playing on crypto casinos since exchanges in some cases do not accept deposits and withdrawals to and from casinos.
Step 2
Choose a verified Bitcoin casino, this step particularly important the crypto casino space is ripe with scams and choosing a trustworthy casino can be a challenge. On IdleBTC has taken out all the leg work and collected a meager but good selection of trustworthy Bitcoin casino sites to choose from. Crypto casinos has the added benefit of being pseudonymous often not requiring any documents or additional information from players.
Click here to see all top Bitcoin casino sites 2022
Step 3
After you have thoroughly gone trough your options and decided on a casino simply sign up with a email address and make a deposit. Depending on what crypto coin and site you choose to use the deposit time can vary between 1 minute to 20 minutes. Most crypto gambling venues has over 10 different cryptocurrencies supported on their site allowing you to play with popular alt-coins such as Tron (TRX), Dogecoin (DOGE) or Bitcoin Cash (BCH).
Step 4
Select the Bitcoin Plinko game and start playing, now you can simply set you bet amount and choose your payout, there are often different levels on Plinko games that let's you control the volatility, meaning you can choose to win often but small amounts or win less often with a bigger payout when you finally hit. Since you are playing with Bitcoin it's easy to try out different betting strategies this currency in particular lets you play with micro-amounts (less than a penny) meaning you can have fun and play around with the game with very low risk of loosing.
Where can i play crypto plinko games?
There are many different crypto casino sites that offers crypto plinko games if you want to get started right away just head to the crypto casino section of the sites to find the best sites that offers the game in question and new welcome bonuses to go with it. And if you want to remain anonymous while gambling with cryptocurrencies such as Bitcoin we recommend checking out our selection of crypto casinos with no verification requirement.
Bitcoin Plinko strategies
Like most crypto games Plinko has several different strategies that can be utilized to maximize your win chances a classic that is commonly used is the martingale system where you double the bet after every loss until you win.